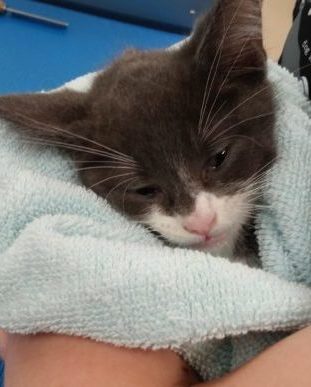 St Francis Animal Hospital and Dr. Joe Robuccio have been a part of the community for over 35 years providing quality veterinary care at an affordable price.
All pets are treated with loving care during every checkup, procedure, or surgery. Our team is committed to providing our patients with quality compassionate veterinary care. By Dr Joe's side are several credential veterinary technicians along with a knowledgeable, skilled, and caring support staff.
We strive to provide complete care for your pet by offering a wide range of services including:
EXPLORE ALL SERVICES
Bringing your pet in for an annual wellness checkup can help reassure you that your dog or cat is healthy.
We are equipped to handle a wide variety of medical conditions, and can complete many diagnostics on site.
We perform BAER Hearing tests here at St.Francis Animal Hospital. Call us to learn more today.
Hi, I'm Dr. Joseph A. Robuccio
IT IS MY GOAL TO KEEP YOUR FURRY FAMILY MEMBERS HEALTHY!
Dr. Joe graduated from Iowa State University with his degree in Veterinary Medicine in 1985. Joe and his wife, Jeanne have five children and nine grandchildren. He enjoys spending time with his family as well as time away at the beach.
Dr Joe is originally from Fitchburg, Massachusetts and went to school in Iowa where he met his beautiful wife, Jeanne. When he graduated from veterinary school, they moved to Columbia, Pennsylvania. "It's a beautiful family-oriented area, we love it here! I love working with my clients and their pets. I feel blessed that I can provide the care that is needed to keep my patients healthy.  My patients and clients are like family to me."
"Our practice started with a few friends in the lower level of our home and grew into the beautiful facility we have now. God has blessed our family, staff, and practice. Veterinary medicine is my life; caring for animals is a labor of love!  Through church, the community, and the veterinary practice, we have become friends with so many wonderful people. We are here because of all your love and support."
About Our Clinic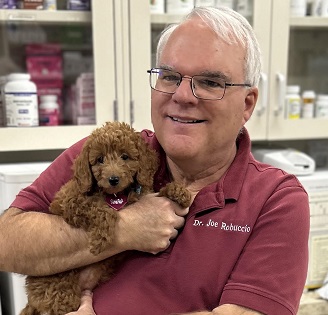 We Are Welcoming New Clients
At St Francis Animal Hospital, we treat every patient as if they are our own pets. Your family becomes a part of our family! Dr. Joe Robuccio has been treating dogs and cats for over 31 years. Your pets' health and well-being are very important to us, and we take every possible measure to give your animals the care they deserve.
About Us
New Client Registration
Pet Health Resources
Our team is committed to educating our clients on how to keep your pets healthy year-round, with good nutrition and exercise. Dr. Joe and his team treat every patient with respect and loving care.
PET HEALTH LIBRARY
HOW-TO VIDEOS
PET HEALTH NEWS

Have a Question? Need to book an appointment?
Connect with us and one of our team members will be happy to assist you.
Monday: 8am – 7pm
Tuesday: 8am – 7pm
Wednesday: 8am – 7pm
Thursday: 8am – 7pm
Friday: 8am – 5pm
Saturday: 8am – 12pm
Sunday: Closed