Meet Our Team
Meet the Veterinarians & Team of St.Francis Animal Hospital. We're proud to provide exceptional vet care for your pets.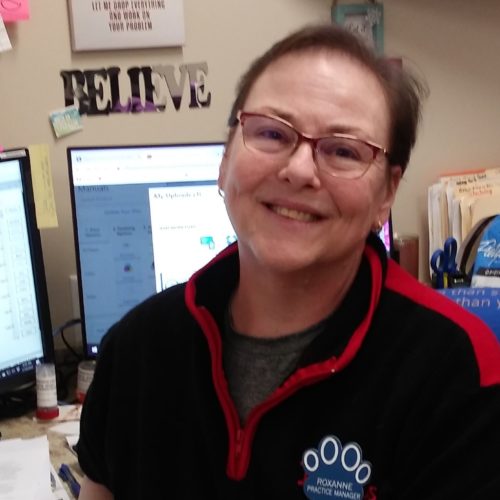 Roxanne Bachman, CVT, Practice Manager has been a certified veterinary technician for over 40 years. Previously she has worked in several private practices and the University of Pennsylvania School of Veterinary Medicine as a nurse practitioner in oncology. Her special interest lies in anything microscope! Fine needle aspirates, cytology and hematology is where her heart lies. Other than using her specialized skills in phlebotomy, catheter placement, fine needle aspirates and cytology, Roxanne has pretty much moved behind the scenes working as the practice manager. She works side by side with Dr. Joe to keep the hospital running smoothly. Her superpower? Multitasking and showing compassion for others.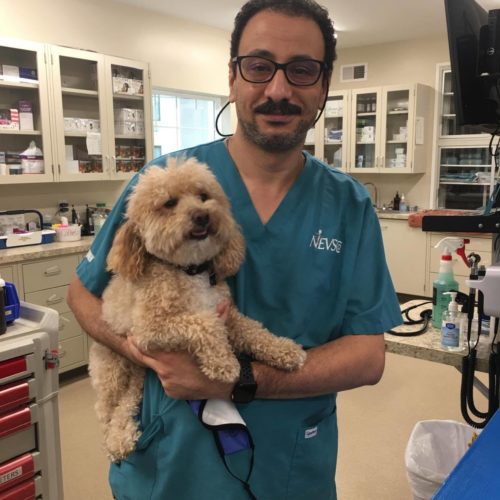 Hany Thomas is an Egyptian veterinarian and is currently studying to obtain his veterinary licensure in the United States. Hany is graduated from South Valley University Faculty of Veterinary Medicine in Egypt with a degree in Veterinary Medicine and Surgery. He works side by side with Dr. Joe reaffirming and increasing his knowledge. His special interest in veterinary medicine lies in dentistry, internal medicine, and surgery. He is a member of the American Veterinary Medical Association and is very active in his Coptic Orthodox Church. Hany loves spending time with his wife, children, and their dog Sophie. When not working or volunteering at his church he enjoys quiet time to read.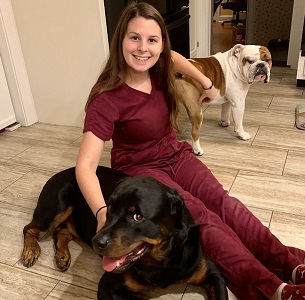 Brittany Rothweiler started working at St. Francis in October of 2017 when she was still a student at York Technical Institute. Brittany completed her studies then did her hands on training here at SFAH. She has been with us ever since. Britt has great compassion for all animals. She thrives on being able to improve a patient's health and happiness. She has a special interest in phlebotomy, dentistry, and Baer Hearing Testing. Britt has a massive rottweiler who is aptly named Grizzly, a silly bulldog named Gussy and a red eared slider named Yoshi. She belongs to Annunciation Greek Orthodox Church, the North Carolina Shell Club, and the Pennsylvania Veterinary Medical Association. On her day off, you can often find Brittany transporting a rescued pet to another state or to a new home. That commitment takes someone with a very large heart and sense of duty. Brittany is an avid couponer, loves combing beaches for shells and sharks' teeth. She also enjoys spending time with her husband and family. What is Brittany's superpower? Positivity.
Brandon Sipling, CVT has been with the Saint Francis team for 2 years now. He completed his specialized degree in veterinary technology at the York Technical Institute in 2020 and passed his national certification that same year. Brandon loves to work in surgery and enjoys the complexities of anesthesia. His household is filled with four very active husky's and husky mixes. He is a member of the Pennsylvania Veterinary Medical Association and plays hockey in his spare time. Brandon's superpower? Making people laugh.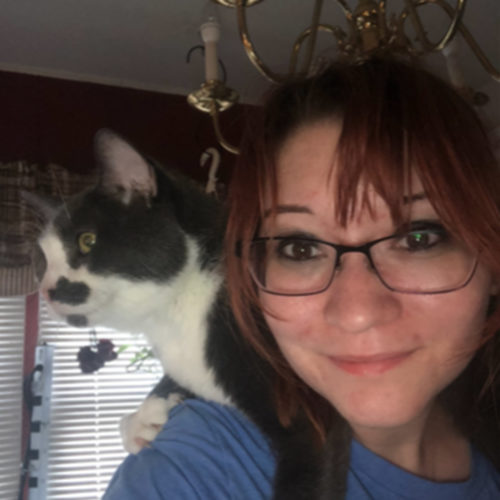 Katherine "Kat" Wiley completed her education in veterinary technology in 2021 after completing an externship here at St. Francis. She is currently studying to sit for the national boards. Kat has a keen interest in reptiles and hopes to work with them at some point in her career. She has 3 cats, Neko, Felix and Nala and a very handsome Russian Tortoise named Tank. She is a member of the National Association of Veterinary Technicians. She is quite the outdoors woman as she and her hubby enjoy fishing, camping, and kayaking. When not in the great outdoors, she enjoys reading and watching movies with her family. What is Kat's superpower? She remains calm no matter what.
Kathy Nissley has been with SFAH for almost 5 years. She came to us from the Cardiac Consultant Group in Lancaster to get her quota of puppy and kitten kisses here at St Francis. Kathy has a special interest in cardiology for pets. She holds a human degree, Associate of Science in Invasive Cardiovascular Technology. Kathy is very active in her church. She loves family time, board games, her Tree walker Coonhound "Jax", "Kita" her Sun Conure, "Coral" her pink parakeet, baseball, and campfires. Her very important superpower is the ability to pull smoke from any campfire, draw it to herself, to save others else from coughing, choking and burning eyes.
Linda Steinmetz has been working at St Francis for 16 years. She maintains a BA in biology as well as a BA in computer science, both from Millersville University. She did graduate work at the University of Maine in ruminant nutrition. Her knowledge of veterinary medicine has been gleaned from many hours of research and her sheer interest in problem solving. Linda has many interests including nutrition, behavior, metabolic diseases including diabetes, Cushing's, and Addison's disease in companion pets. Linda is a member of the Pennsylvania Veterinary Medical Association, the American Association of Feline Practitioners, and the International Organization of Cat Care. Outside of work, Linda is an avid bird watcher and sci-fi book reader. She and her family have one dog, GeGe, and one very beautiful Siamese cat KeeKee. What is Linda's superpower? Patience and perseverance and her wonderful ability to calm our stressed feline patients. Linda can take a tiger and turn it into a pussycat!
Lori Erb joined our CSR team in the spring of 2022. She comes to us with several years of experience working in the human health sector. Her love of animals and needing a change prompted her move into the animal medicine world. Lori has several grandchildren, enjoys spending time with them and the rest of her family. She has a love of music and enjoys lazy day drives and road trips. Lori's superpower? Making others feel comfortable and relaxed.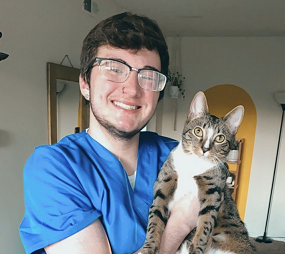 Isaac Becker comes to us with one year of training in the veterinary field. He is currently enrolled in the Penn Foster veterinary technician program and plans on receiving his national veterinary technician licensure. His drive to make a difference in a pet's life and its owner is what drew Isaac to veterinary medicine. He has a keen interest in learning more about surgery but is genuinely interested in all aspects of veterinary medicine. Isaac and his fiancé Emma are proud owners of 3 kitties, Twix, Gemini and Salem. Family plays a large role in Isaac's life. He loves camping with his fiancé, hanging out with his niece and nephews and collecting basketball cards. If Isaac had a superpower, it would be the ability to talk to animals!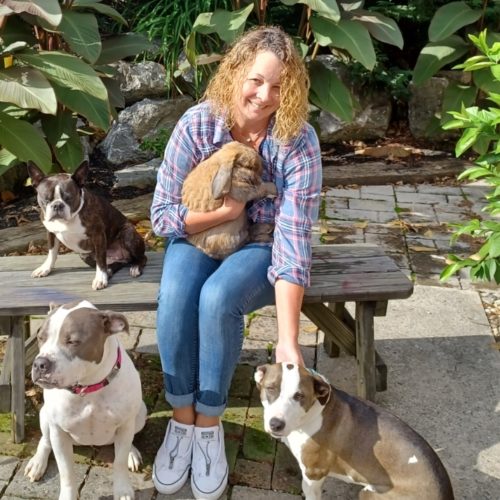 Melina Erb works as a customer service representative here at St. Francis. She had no previous veterinary experience but was hired because of her wonderful personality and desire to learn. Her father raised boxers and rabbits and her grandfather raised beagles and foxhounds for fox hunts. These experiences gave a Melina a deep love for all animals. Her menagerie at home includes 3 pups and a Holland lop bunny named Chewy. Mel belongs to Reality Church in Lancaster, the SPCA and Best Friends Animal Sanctuary. When not at work, she enjoys spending time with her wonderful husband and family. Melina is quite the artist and expresses her creativity in what is known as Coastal Art. She transforms, dried seaweed, shells, and sea glass into wonderful works of art. What is Melina's superpower? Her compassion for animals and children.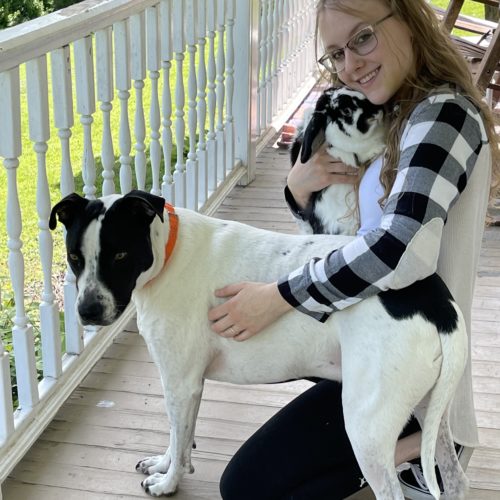 Sierra Shoff completed her book studies as a Veterinary Assistant at Lancaster County Career & Technology Center and then completed her externship here at St. Francis. As with all of us here at St. Francis, her love of animals is what prompted her to study in veterinary medicine. Sierra plays an integral part in keeping our treatment area running smoothly, seeing that items are well stocked, and items are readied for the next patient.
She loves spending time with her family, and her four pets: a pooch, two cats and a bunny.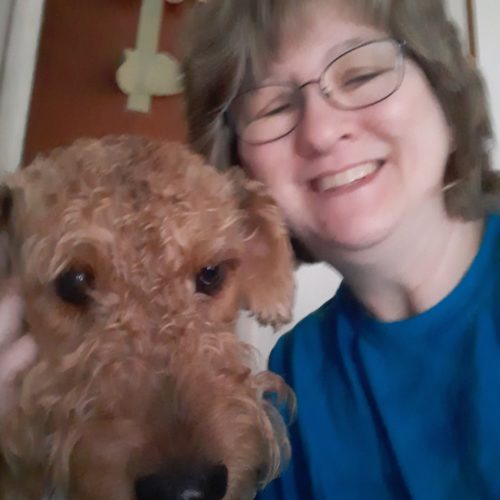 Teresa Grable is currently in her 3rd semester at York Technical Institute to earn her specialized degree in Veterinary Technology with a goal of gaining licensure in Pennsylvania as a certified veterinary technician. Teresa has a caring soul; she loves helping people and their pets. These 2 qualities make Teresa a shoo-in here at St. Francis...helping people, helping pets. She has quite the fur baby family with two Airedale terriers, Ted, and Jasmine, and 7 cats to keep the dogs in line! At this stage of her education, Teresa is enjoying parasitology and has a big desire to learn more about internal medicine. Teresa and her husband are active volunteers in the York County Harley Davidson Owner Association where they volunteer at their charitable fundraisers. Teresa is a country girl at heart raising laying hens, gardening, and preserving what food she raises. She loves spending time with her family and grandchildren. When asked what her super power is, she replied, "staying cool under pressure" and "being a good listener".
Delaney has worked at two previous veterinary clinics and has completed two years in the veterinary technician program at Wilson College. She recently transferred to Lancaster County Career & Technology Center to complete her veterinary technician degree. Delaney's goal is to educate clients to better understand their pets. She has a keen interest in nutrition in dogs and cats and she finds it amazing to see how changing a patients diet can drastically change their health. Her fur family consists of a Cavapoo named Edision, Althea, her cat who she rescued as a kitten and a paint/pinto horse named Naash. When Delaney is not studying to teaching swimming lessons, she is rider her horse, kayaking, painting, going to are shows or hiking with Edison. Delaney's superpower? Dealing with "spicey" cats.